Hand Sanitizer Gift Sets - Assorted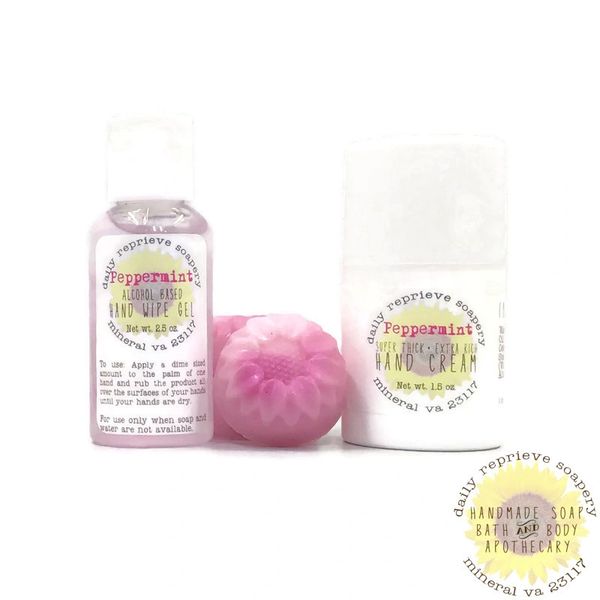 This sweet gift set has everything you need to keep clean and sanitized while running essential errands. Set includes:
70% ethanol hand sanitizer in a pleasant assortment of scents. Fragrance free also available. 2.5 oz bottle with flip top. 

Super rich, extra thick hand cream in an airless pump. 1.5 oz.

3 signature sunflower handmade glycerin soaps.
Ingredients:
Hand Sanitizer: 70% Ethanol, Water, Glycerin, Hydrogen Peroxide, Aloe Vera  Extract, Polyacrylate Crosspolymer, (Fragrance).
Use as needed when soap and water aren't available.
Net wt. 2.5 oz
Hand Cream: Water, Sunflower Oil, Avocado Oil, Cetyl Alcohol, Rice Bran Oil, Cetearyl Alcohol/Ceteareth 20,  Stearic Acid, Glycerin, Panthenol (Vit. A), Tocopherols (Vit. E), Allantoin, Germall +, (Fragrance).  
Net wt. 1.5 oz
Soaps: Glycerin, Lard, Water, Coconut Oil, White Sugar, Sodium Hydroxide, Sea Salt, (Colorant, Fragrance, Ground Oats).