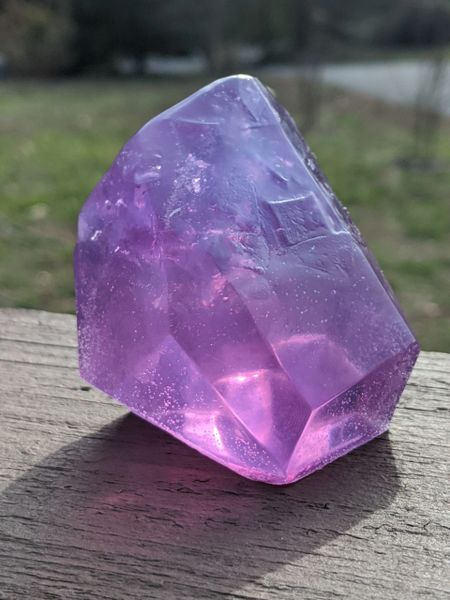 Gemstone soaps 

are created using the same handmade clear base I use for my luffa soaps.
I used real crystals for my inspiration, and although the pictures don't do them justice, they're glorious to hold and use. The design is throughout, so as the soap wears down, it will continue to look beautiful. Several different stones available!
Amethyst - shades of lavender and purple scented in notes of fruits and sparkling lemon
Aquamarine - clear blues and teals, scented with a watery sea salt fragrance
Citrine - cheery yellow and amber, scented with a sunny, herbal concoction
Emerald - shades of green, scented with English ivy, jasmine, green apple and neroli (orange blossom)
Garnet - rich reds and rust with gold and copper, scented with red currant
Opal - milky white and clear with specks of fiery red and bright blues and greens as the soap is used
Rose Quartz - pinks and dusty rose chunks, scented with a blend of bright citrus and tea rose
Sapphire - shades of crystal blue with gold streaks and opaque white stone, scented with a watery floral
Turquoise - mainly white and gray, will reveal chunks of green blue "stones" amid copper streaks
---
Net wt. 3.0 oz (100g)
---
Ingredients: Lard, Water, Coconut Oil, Simple Syrup (Sugar+Water),  
Sodium Hydroxide,
 Salt, Fragrance, FD&C Dye (Red 27, Red 33, Blue 1, Yellow 5, Yellow 6), Mica, Eco-friendly Glitter.