Gardener's Salvation Balm - Original (4 oz)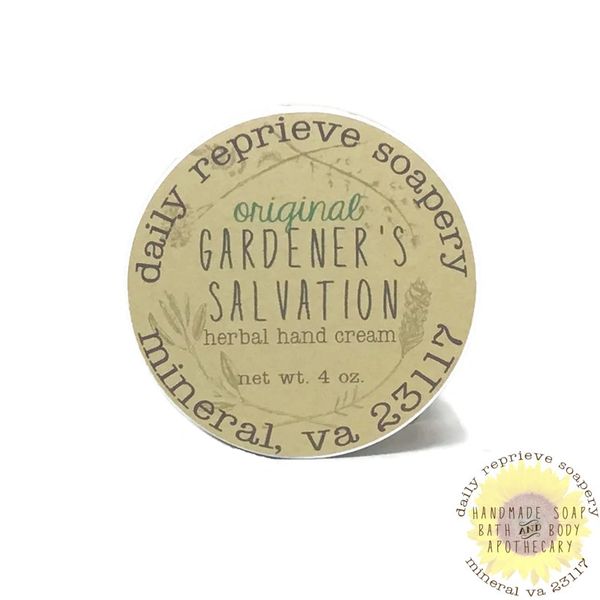 Gardening is HARD WORK. Little cuts and scrapes from pulling weeds, pruning rosebushes, and running into wild blackberry thorns all take a toll on your lovely hands.
Soothe and calm minor ouchies with this fantastic, creamy, buttery balm. This very special balm has plenty of shea and cocoa butters and herb-infused safflower oil. The additionof lanolin means it'll last through a couple of hand washings. Making this balm is a process, starting with a gentle cold infusion of botanicals in rich oils, then blending with just the right butters, until finally whipping it to a creamy, loose consistency that melts on skin contact. (It'll also get melty if left in a purse or car, so be mindful and please store at room temperature.)
It has a light, pleasant scent that was inspired by my own herb garden.
---
Ingredients: Water, Safflower Oil, Cocoa Butter,  
Glycerin,
 Stearic Acid, Shea Butter, Lanolin, Cetyl Alcohol, Glyceryl Stearate, PEG-100 Stearate, Dimethicone, Allantoin, Panthenol (Vit. B-5), Aloe Vera, Botanical Extracts (Calendula, Chamomile, Cucumber, Lavender, Rice Bran, Rosemary Leaf, Sunflower), Vit. E., Carbomer, Urea, Essential Oils of Rosemary, Peppermint, Lavender, Chamomile, and Lemongrass; Germall +.
Use as needed. It's brilliant UNDER your gloves as well.

---
Net wt. 4 oz